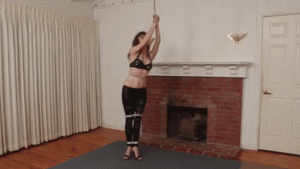 10:01 video
Lauren has been caught and is being held in restraints! Her hands are tied above her head and attached to the ceiling and she can't escape!
Her predicament only continues to grow worse. Her mysterious captors grow weary of her questions and calls for help, so they ball gag her pretty mouth. Her legs are attached to a spreader bar so she stumbles as she struggles in her skinny black stiletto heels.
The sexy black leather bra is removed, and Lauren is further humiliated as the drool from her ball gag starts to leak down onto her breasts. Whimpering and wiggling against the ropes and restraints, Lauren can't even escape the rough friction of the tight crotch rope!
Finally, she is bent over with a collar connected to the spreader bar on her ankles holding her in place with with her arms behind her restrained in a strappado position.
Just when poor Lauren doesn't think it can get any worse, a mysterious figure in a dark hood appears. Chanting ominously, the cloaked stranger spanks and paddles Lauren - administering a brutal punishment without any explanation, then leaving Lauren to contemplate her many transgressions and wonder which one got her in trouble this time, and if she'll ever be let out!
Featuring: Lorelei Mission - Bedroom Bondage, Jon Woods - American Damsels
*DAMSEL IN DISTRESS, STRAPPADO, BONDAGE, ROPE BONDAGE, BALL GAG, DROOL, LEATHER, LEGGINGS, BRA, TOPLESS, HOPPING, SPREADER BAR, SPANKING, PADDLING, CROTCH ROPE*