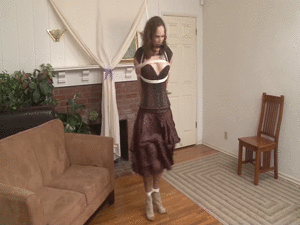 10:37 video
Charity O'Malley, Steampunk Pirate Queen, has been tricked! Thinking she is entering a musicale, she finds herself facing her nemesis instead! And she is trapped!
Roped and gagged with a thick bit gag, she struggles helplessly, leaning from side to side and wiggling around. Hands behind her back and left standing in the middle of the empty room, her struggles only succeed in making her predicament even worse!
Her corset slips down, leaving her breasts hanging out, and her assailants add more and more rope, across her hips, around her tits, and even between her legs! The longer she is bound, the harder she struggles to get free. And the more she tries to cry out through the bit gag, the more drool starts to drip from her lips.
This steampunk damsel is well and truly trussed!
Will anyone come to her rescue??
Rope by: American Damsels and Lorelei Mission
Includes: Bondage, Rope Bondage, Pirate Fantasy, Restraints, Damsel in Distress, Gag, Gagged, Drool Fetish, Bondage Struggle