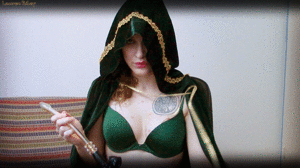 5:42 video
You meet a beautiful woman at a party wearing an enchanting cape and you follow her to the back room. She offers to share her pipe with you and blows the exotic smoke into your face. As you inhale something starts to happen to you...
As you inhale deeply she blows more and more smoke from the magic fairy pipe into your lungs. Her sensual fingers stroke the long stem of the pipe as she explains that you violated the first rule of not consuming anything a Fairy offers you! You have been breathing in Lauren's Magic Cock Sucking Spell!
The more smoke you breathe in the more cock you want to suck! You're transforming by the second to become a total cock craving cumslut! You want nothing more than the taste of dick and you're turning into the most desperate cockslut in history! The instincts for cocksucking must have existed already in your heart.
You won't feel complete until the cum of a thousand cocks has slid down your throat!
Includes: Femdom POV, Transformation Fetish, Smoking Fetish, Pipe Smoking, Erotic Magic Fantasy, Transformation Fantasy, Encouraged Bi, Make Me Bi, Fairie Fetish